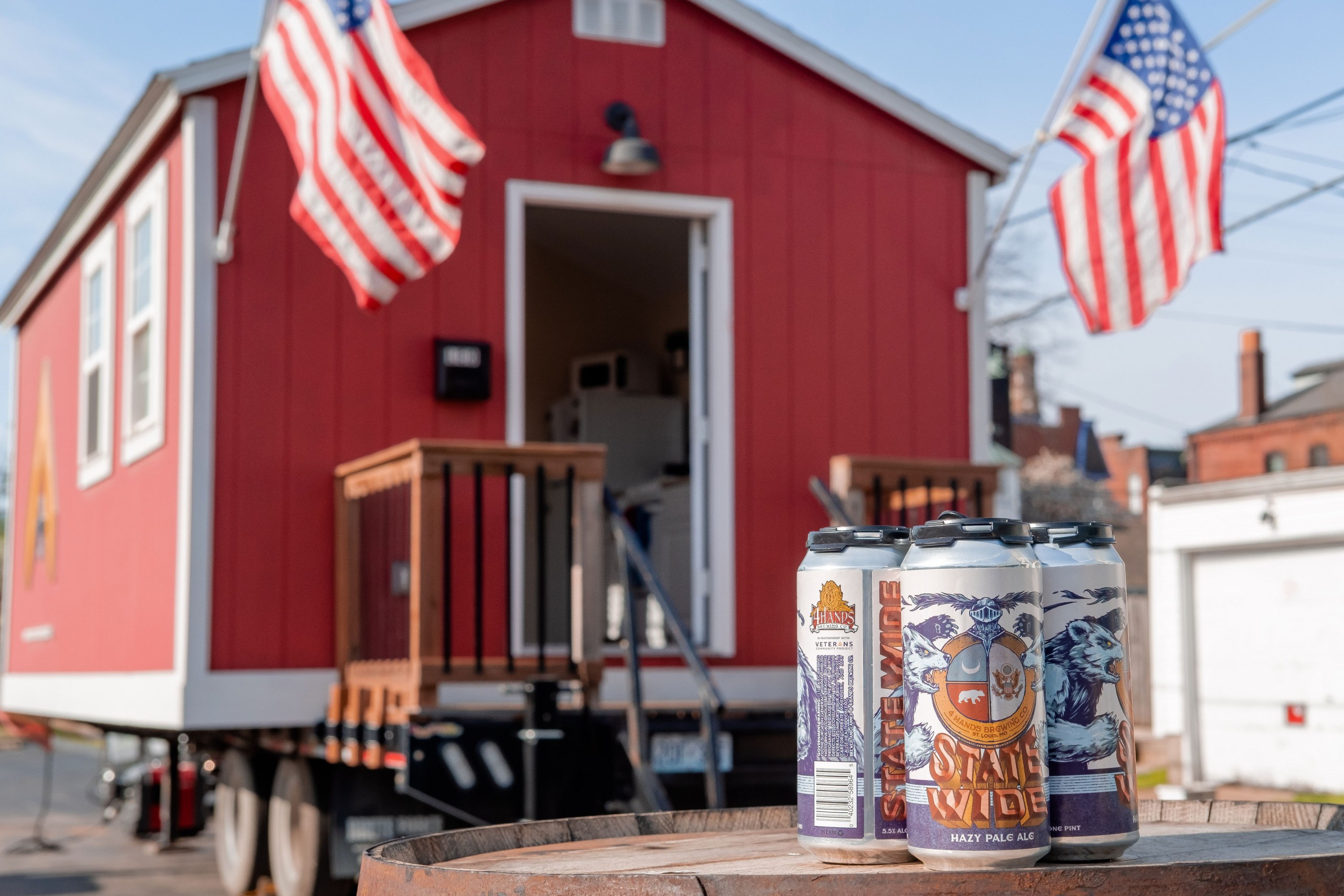 4 Hands Brewing partners with Veterans Community Project for fundraising beer
4 Hands Brewing Co., a St. Louis brewery founded in 2011, is brewing a new Hazy Ale to benefit the community. State Wide offers Simcoe and Amarillo hops and exists to give back to Missourians.
Veterans Community Project is the first beer partner for 4 Hands for the State Wide, which will launch in early May. Cases of beer will be available throughout Missouri, wherever 4 Hands beer is sold. For every case purchased, the brewery will donate $1 to VCP, with the ultimate goal of building a new tiny home for a veteran.
"State Wide will launch as a year-round beer in early May and we have already brewed several batches at our 30 bbl brewery to ensure there is enough beer to go around the state" , says Jeremy Danner, on-site and brand specialist. ambassador of 4 Hands.
The Veterans Community Project designs tiny houses as transitional housing for homeless veterans. While in the tiny house, the veteran receives a case manager who connects them to a community of local businesses, agencies, nonprofits and others who help provide the support needed to help them through their unique situations. Veterans can stay in the village for as long as they need while they progress towards their permanent housing goal.
The HUD estimates that there are more 40,000 homeless veterans across the United States In Missouri, that means approximately 538 veterans are currently experiencing homelessness in our state. That's what VCP and 4 Hands hope to alleviate with this partnership.
"After visiting the Kansas City campus of the Veterans Community Project earlier this year, we were absolutely blown away by the quality of the people who lead the organization and we are excited to get to know them better and to continue to be inspired by the amazing job they do. I do," Danner says. "For us, any charity work we do is about more than selling beer and writing a check. We really want to build relationships with our nonprofit partners and find ways to get personally involved in every project. Beer is great too!"
State Wide's brew comes after the success of Citywide, an American Pale Ale that benefits the St. Louis community. 4 Hands has donated over $250,000 over City Wide's five-year run. Since 2016, 4 Hands has partnered with 20 nonprofits to give back to the community.
4 Hands hopes to achieve the same, if not more, success with State Wide.
"Given the success we've had with City Wide in St. Louis and its philanthropic mission, we saw this as an opportunity to be 'more than beer' for more of Missouri," says Danner. "It just so happened that while we were looking to expand our charitable partnerships to include a statewide organization, the Veterans Community Project was in the process of opening a campus in St. Louis. We've been fans of their work and Jason Kander and thought we'd reach out because the powerful and impactful work they do has truly inspired us.
4 Hands will continue its philanthropic partnerships with State Wide based on the City Wide model. Instead of partnering quarterly with nonprofits, 4 Hands has committed to working with VCP long enough to build at least one tiny house.