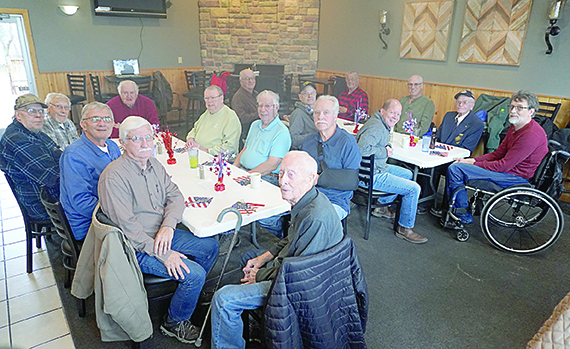 Area veterans gather at Willows in RN to see the program
Area veterans gathered at The Willows in New Richland to view the virtual NRHEG 2021 Veterans Day program. Pictured at left table, starting with Richard Chicos in the red shirt, from left to right: Aldean Drager, Roger Holland, Dennis Dinneen, Dan Economy, Winston Evenson, Jack Pfeffer, Orville Bouldan (light blue shirt) and David Warke.
Seated at table two are, from leftmost seat: Don Loken, Jeff Jessen (with black cap), Pastor Scott Williams, Rick Crumb, Rich Crumb, Brian Verma, Paul Fornberg.
By TREVOR LENOR AND ASA JOHNSON
panther press
On Thursday, November 11, NRHEG Schools honored area veterans with an event that was both very traditional and a new way of doing things. "Recording and sharing the show was a step we took to protect our community and our veterans," says high school principal Dave Bunn. "We would have preferred to be able to honor their service and sacrifice in person, but risking everyone's health was too high a price to pay."
"People were thrilled to take part in the program," comments Nancy Rudau, one of the organizers who planned the schedule and found volunteers to participate. "It is clear that our community has a very high regard for our veterans.
The recording was made in the high school gymnasium on Wednesday afternoon and released via the Internet for viewing by members of the public at their leisure. Among those who participated were student council members, high school choir members, Boy Scout Troop 7, Principal Bunn and District Superintendent Mike Meihak.
With the video made and shared, students gathered in classrooms shortly after 9 a.m. Thursday to watch the program, discuss its importance, and then participate in "Project Gratitude," a national initiative that invites people to write letters not only to veterans and deployed troops, but also to emergency responders and law enforcement.
NRHEG choral music instructor Krista Reeder was also among those who helped organize the program. Through a "self-assessment" process she asked singers to go through, she learned that choir members "found a sense of honor and duty in performing for our veterans." .
After all, she observes, "We have the privilege of singing in a choir – which is just one of the freedoms of expression made possible by their sacrifice."