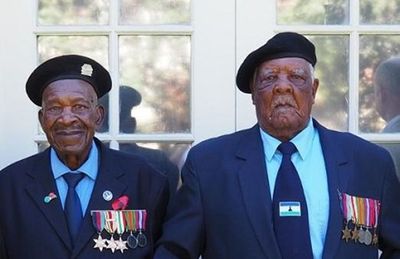 Commonwealth veterans' charity announces plans to close after 100 years
A century-old charity for Commonwealth veterans has announced plans to close over the next decade when its last surviving beneficiaries die.
The Royal Commonwealth Ex-Services League (RCEL) has been distributing money to pre-independence veterans across the Commonwealth since 1921.
Using a network of former military representatives, they aim to provide two meals a day to Commonwealth veterans who served the Crown, or their widows, who live in poverty overseas.
With many of its beneficiaries now aged 90 or over, the RCEL expects to close within the next ten years when its last surviving beneficiaries die.
Funding for Foreign, Commonwealth & Development Office (FCDO) grants is due to end in March 2024.
Although it plans to close within ten years, the association is asking for additional financial support to prevent many of its beneficiaries from dying "of malnutrition and poverty".
End of public funding in 2024
More than 4.4 million Commonwealth servicemen and women from the Indian subcontinent, Africa and the Caribbean fought in World War II, claiming 360,000 casualties.
This year, the RCEL has helped 5,000 war veterans and widows in 37 countries, including Commonwealth countries and former Commonwealth countries before independence, through social workers who carry out assessments and distribute aid social.
Chris Warren, general secretary of the RCEL, said funding for the FCDO grants was due to end in March 2024, although the charity still had "vital work to do".
"In many ways, our work is more important than ever, as our beneficiaries enter the evening of their lives. Until the last dies, in partnership with service charities, and we hope for an extension of the government funding program, we will work to ensure that no overseas resident who has served in our armed forces has what to eat.
"Without additional financial support, the consequences will mean that many, more than half of whom are widows, will die of malnutrition and poverty. They came to support us in our hour of need, and we must continue to remember them in their hour of need.
"We must continue to work to prevent starvation, malnutrition and improve their quality of life through healthy food. The WWII generation is aging and in need of support as few countries have a national healthcare system similar to our NHS. The need to ensure the security of the food supply to some of the most disadvantaged people in the world is perhaps more important today than it was when we started 100 years ago.
Warren also paid tribute to the Queen, a patron of the charity, saying she 'showed a personal interest throughout her life and there is no doubt her involvement has helped bring out dozens of thousands of veterans of poverty".