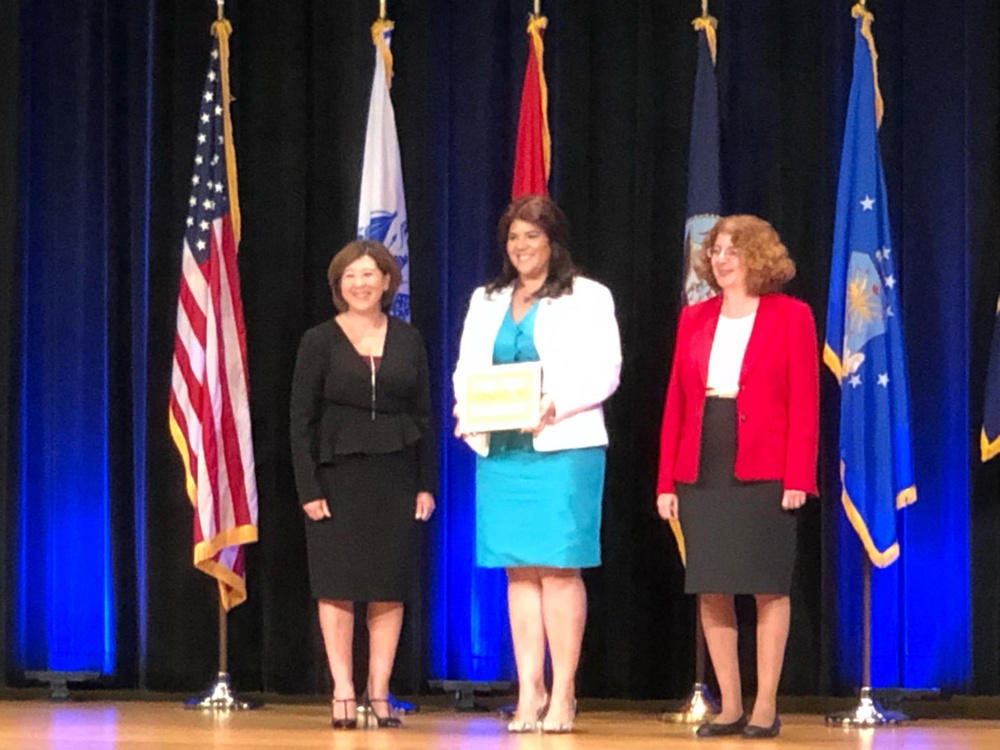 DVIDS – News – Transitioning to Veterans Affairs Program Office (TVPO) Research Psychologist Executive Leadership Development Program Graduates
ALEXANDRIA, VA – A research psychologist with the Veterans Transition Program Office (TVPO) graduated from the 2019 Executive Leadership Development Program (ELDP) in a special ceremony held at the Pentagon, June 7.
Miliani Jiménez, Ph.D., concluded a 10-month immersion into Department of Defense (DoD) culture as one of 60 graduates of the 33rd ELDP class. The ELDP supports the DoD civilian leadership development continuum at the "responsible person" level and is designed to equip participants with a combatant perspective.
"This was truly the best DoD leadership training I've received so far in my career," Jiménez said. "The ELDP has helped us reflect and learn more about ourselves as teammates, leaders and followers through exposure to numerous self-assessments that have equipped us with the tools to continue to grow as DoD leaders."
The Secretary of Defense led the development of the ELDP in 1985 to provide deliberate and experiential leadership development opportunities for future leaders. ELDP combines practical/experiential military training to foster a deeper understanding and appreciation of the combatant's mission and the national security environment.
The program provides exposure to senior military officers, civilian executives, and introduces new concepts throughout the development continuum. ELPD also offers virtual sessions for continuous learning and practical application for an unparalleled and challenging leadership training and professional development experience.
"This program provided me with a broad knowledge of the DoD mission through exposure to combatant commands (e.g., U.S. Forces Korea, Central Command, U.S. Indo-Pacific Command, U.S. Special Operations Command, military) DoD agencies (eg, Defense POW/MIA Accounting Agency, Defense Contract Management Agency) and sister agencies (eg, House Armed Services Committee, National Security Council, Department of State). It has also given me a greater appreciation for the training our service members undergo to become elite and deadly warfighters through exposure to the Marine Corps Recruiting Depot, Assault Training air force, the medical training provided by the Special Warfare Medical Group, and the work done by our Joint Drug Enforcement Task Force," Jiménez explained.
Throughout his 10 months of ELDP experience, Jiménez simultaneously continued to lead an inter-agency body in the development and implementation of the Transition Assistance Program (TAP) inter-agency evaluation strategies, to include the Completing the TAP Participant Assessment, the key outcome measure for assessing program satisfaction and learning delivered to more than 200,000 transitioning military personnel each year.
ELDP also offered its participants a chance to improve programs across the DoD.
"I was able to partner with seven other elite DoD civilians in the execution of a DoD program by helping Air Force Materiel Command better understand their current workforce development outlook. (IDP) and to provide recommendations for improving training and developing a communications strategy to get the most out of the IDP.
Jiménez, who received his bachelor's degree in psychology from Pennsylvania State University and his master's and doctorate. in Industrial and Organizational Psychology from the University of Central Florida, is an accomplished researcher with eight publications and 42 conference presentations. She received the 2014 American Psychological Association Early Career Achievement Award for her achievements and display of astute leadership in the field of psychology. Additionally, his research on organizational culture has been featured on the Society of Industrial and Organizational Psychology (IO) website, "IO at Work."
Her previous work with the U.S. Army Research Institute for the Behavioral and Social Sciences focused on mitigating the effects of negative workplace behaviors such as sexual assault, sexual harassment, bullying, hazing, and suicides through development positive organizational climates (i.e. inclusive organizational climates, resilient units and effective teams and multi-team systems).
Although she has achieved a lot, Jiménez looks forward to the next phase of her career.
"I look forward to continuing this leadership journey as a DoD civilian. I look forward to the next challenge, which will allow me to continue honing the skills I learned through ELDP," she concluded.
| | |
| --- | --- |
| Date taken: | 06.07.2019 |
| Date posted: | 26.07.2019 14:10 |
| Story ID: | 333259 |
| Location: | we |
---
| | |
| --- | --- |
| Web views: | 266 |
| Downloads: | 0 |
---
PUBLIC DOMAIN


This work, Transition to Veterans Affairs Program Office (TVPO) Research Psychologist Executive Leadership Development Program Graduatesmust follow the restrictions listed at https://www.dvidshub.net/about/copyright.