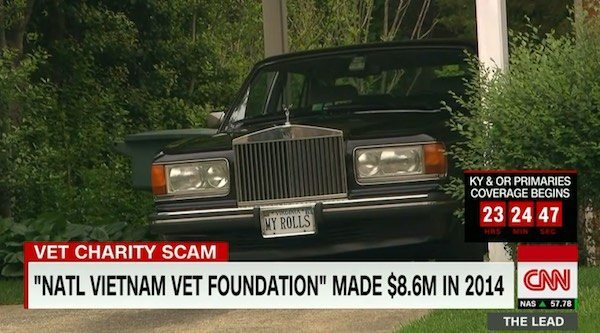 High-ranking VA lawyer runs 'worst' charity for veterans
CNN left out that the head of the "worst" veterans' organization is also a high-ranking lawyer with the agency and directs its homeland security operations.
CNN recently fired VA attorney J. Thomas Burch Jr for running the National Vietnam Veterans Foundation, one of the nation's lowest-rated veteran charities. The National Vietnam Veterans Foundation donated just $122,000 to veterans out of the $8.6 million raised in 2014.
VA LAWYER BACKGROUND
For some reason, CNN omitted that Burch is not just a VA attorney, but a high-ranking VA attorney who has a stranglehold on journalists' Freedom of Information Act requests. with the VA General Counsel's Office. He is also Deputy Director of Homeland Security and Operations for the VA. And, he's also a longtime DC insider with deep ties to the Republican Party.
More on that later, but it certainly made me wonder how or why CNN would leave those details out. And this CNN?
WATCH: The 'Worst' Charity for Veterans Led by a VA Employee
CNN ON J THOMAS BURCH JR
According to CNN, NVVF used the funds for questionable purposes in 2014, including more than $8,000 for parking, likely for Burch's Rolls Royce.
Yes, the man drives a Rolls Royce which even has a license plate that says "MY ROLLS". When CNN tried to confront him about his spending, he rushed into black beauty.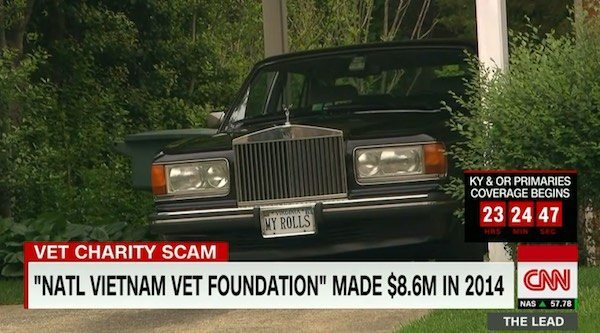 NVVF's listed expenses for 2014 included:
"$133,000 for travel, $21,000 for unnamed 'rewards', $70,000 for a category described as 'other expenses' and even just over $8,000 for parking.
Burch's salary was $65,000 for 30 hours of work while receiving $127,000 for his full-time work as a VA attorney.
In light of these numbers, I wondered how this elderly veteran finds the time and energy to put in 70 hours a week. Or is he skimping on his VA duties?
Here's what CNN's coverage left out.
MORE ABOUT J THOMAS BURCH JR
Speaking of duties, Burch even has two jobs at VA. He is the lead Freedom of Information Act (FOIA) attorney for the VA Office of General Counsel. He is also Deputy Director of Homeland Security and Operations at VA.
Homeland Security at VA? Yes, that is correct.
I spoke with him in 2014 about a FOIA request when he identified himself as an assistant manager. When I asked him "From what?" he replied with the rest of his title. When I asked him "why" VA has such a position, he quickly hung up the phone.
After a bit of digging, I learned that Burch is a well-connected DC insider who has long had deep connections within certain conservative circles.
In 1988, he petitioned the Bush administration for a Department of Defense position:
"I would love to serve as a confirmation by a Senate appointee to the Department of Defense under the Bush administration. I have a particular interest in the position of Under Secretary of the Army or Deputy Secretary of Defense (procurements and logistics).
Can you ever imagine making such a cheeky petition?
DOWNLOAD: J Thomas Burch Petition to HW Bush's White House
J THOMAS BURCH JR ELIMINATED JOHN MCCAIN
In 2000, he openly criticized Senator John McCain during the presidential election cycle in favor of George W. Bush. His statements as reported by the NY Times drew significant rebukes from many senators:
On Thursday, Mr. Bush shared a stage in Sumter, South Carolina, with J. Thomas Burch Jr., chairman of the National Vietnam and Gulf War Veterans Committee, who said that Mr. McCain, hailed as a hero for surviving five years in a North Vietnamese prison camp, opposed Agent Orange and Gulf War Syndrome measures and legislation to help soldiers' families missing in Vietnam.

"He came home, forgot about us," Mr Burch said.

In the letter to Mr. Bush, the senators said, "We write to express our dismay at the misinformed accusations made by your deputy."

"These allegations are absolutely false," said the letter signed by Senators Max Cleland of Georgia, Bob Kerrey of Nebraska, John Kerry of Massachusetts and Charles S. Robb of Virginia, all Democrats, and Chuck Hagel of Nebraska, a Republican and one of the few supporters of Mr. McCain in the Senate.

"Indeed," he continued, "Mr. Burch was a leading critic of President Reagan's and your father's policies on POW/MIA issues, and he vehemently opposed a landmark effort led by the Senate Select Committee on Prisoner of War Affairs/MIA conducted on a bipartisan basis that resulted in the declassification of millions of documents and the identification and return to the United States of the remains of hundreds of US servicemen missing in action.

The senators wrote that Mr. McCain was a leader on the veterans file. "We hope you will publicly disassociate yourself from these efforts and apologize to Senator McCain."

Source: https://www.nytimes.com/2000/02/05/us/2000-campaign-veterans-issue-five-senators-rebuke-bush-for-criticism-mccain.html
J THOMAS BURCH JR ELIMINATED JOHN KERRY
And in 2004, he criticized Senator John Kerry during the speedboat hype:
John Thomas Burch Jr. fought the Vietnam War on many fronts.

A Department of Veterans Affairs official, he also oversaw a lucrative but little-known veterans fundraising group and served as a Bush campaign surrogate willing to burn war heroes on veterans issues.

Now, as the Bush campaign targets Kerry's Vietnam-era record, Burch, also a Vietnam veteran, looks set to rejoin the campaign.

Last year, he registered the Internet domain names Veteransforkerry.org and Veteransforkerry.com (the domain names as published have been corrected in this text).

None of the websites are operational – it is unclear whether Burch registered them to prevent Kerry from having the names or for some other reason. Burch did not respond to requests for comment.

Kerry campaign spokesman David Wade said he assumed it was an attempt to damage the senator's campaign.

"I suspect they plan to fill cyberspace with all kinds of vicious lies," Wade said. "The same gang that slandered John McCain will attempt the same sneak attacks under the radar screen to fool veterans and twist John Kerry's record."

One thing is certain: Burch is a longtime enemy of the Democratic candidate.

Source: https://articles.chicagotribune.com/2004-02-22/news/0402220459_1_burch-sen-john-mccain-bush-campaign
(Apparently Burch had a bipartisan aversion to anyone named "John" running for president.)
The key phrase here was that Burch's "lucrative but little-known veterans fundraising group". Thus, the Chicago Tribune refers to his group as a "fundraising group" that everyone apparently knew was "for profit". Well, everyone but the donors donated money to a non-profit organization which they said would then redistribute the money to veterans other than the group CEO and his fundraising buddies .
Why is CNN only reporting on this? And the Washington Times? Where have our news media been for the past 12 years?
As for Burch's connections, it doesn't stop there.
Burch has photos with virtually every major Republican politician in the J. Thomas Burch Jr. collection at Texas Tech University.
And he wasn't just the founder of the National Vietnam Veterans Foundation.
He was also the fearless leader of the National Vietnam Veterans Coalition Foundation before being named in a lawsuit with a telemarketing front company called Telecom Telemarketing Services, Inc, in 2001.
DID THE LAWYER KNOWINGLY USE LUMBRES TELECOMS?
Since then, he has enjoyed the fruits of relationships with other telemarketing shell companies who keep 90% of the funds raised for his charity. But that's obviously not new news given comments from the Chicago Tribune in 2004.
According to NVVF's recent IRS Form 990, two such companies are Community Support Inc/Outsource 3000 and Midwest Publishing, Inc.
These two companies and their respective owners are repeatedly named in various states as sleazy and dishonest companies that scam donors by lying to them over the phone.
Now take a look at their websites and let me know if they resemble the websites of companies that earn millions of dollars every year in donations to charities like NVVF:
Do either of these websites reflect a copy worth millions that you would hire to even mow your lawn let alone organize your fundraiser?
Apparently, Outsource 3000 is owned by the same people who owned Community Support Inc (CSI) which was ordered to shut down operations in 30 states after it was caught "lying" to donors in 2008, according to the Center For Investigative Reporting. .
RELATED: The Solicitor's Shuffle – Create, Collect, Repeat
Ouch, right? !
So how can a high-ranking VA lawyer/Vietnam veteran/VA deputy director of homeland security and operations, a DC insider who "mistakenly" eliminated two presidential candidates, hire shady companies using deceptive fundraising techniques to raise funds?
Was he simply misled every year by the same companies that have pocketed 90% of the $29 million donated to NVVF since 2010? Has the money been removed from the ledger? Did it end in Panama? What exactly happened to the funds and how did all of Washington DC know it was happening?
I suspect the answer will be revealed by the VA OIG investigation that is supposedly underway now that CNN has preempted Burch. Does it seem reasonable to believe that these discoveries will reveal that J. Thomas Burch Jr is in on the scam?
But who really knows, right?
The guy can drive his Rolls Royce and pay $8,000 a year for parking just because he's a great guy who cares about veterans…unless you're a POW/MIA or Purple Heart recipient like John McCain or John Kerry.
Now, I don't blame the guy for driving a car he loves and is proud of (although we can blame him for the "MY ROLLS" license plate). I would love to drive a Rolls Royce, Jaguar or something fancy one day (without the license plate).
I blame the guy for knowingly using shady shell companies to raise money for his veterans organization who keep 89% of the money raised. This is a problem for me.
It's a slap in the face for veterans and the organizations that support us.
Source: https://www.cnn.com/2016/05/16/politics/vietnam-veterans-charity/