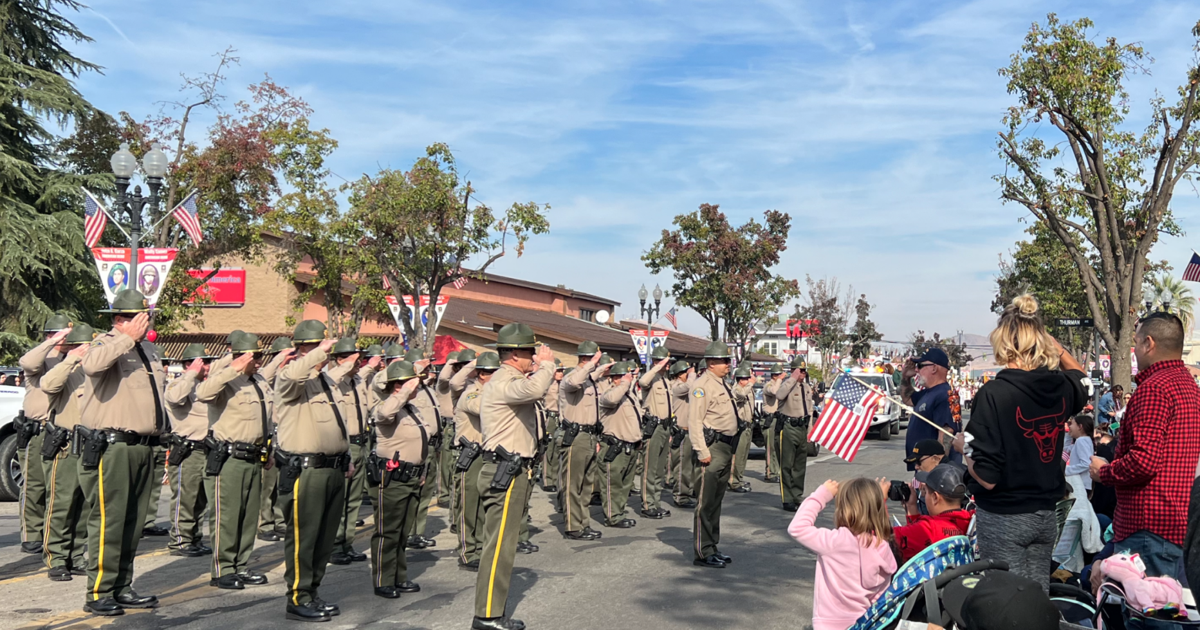 Honoring Veterans: Main Street Community Pack for Veterans Day Parade | Pictures
Porterville 104e The annual Veterans Day Parade did not disappoint the thousands of residents and visitors who packed Main Street Friday morning to see one of the Central Valley's largest parades and oldest Veterans Day Parade. veterans in America dating back to the end of the First World War. and a spontaneous parade ensued.
But before it even started, the crowd showed their pride and patriotism in veterans by wearing red, white and blue and waving small American flags.
This year's parade, presented by American Legion Post 20, added a spectacular pre-parade event that had the crowd looking up as they waited for a few paratroopers to arrive to officially begin the televised parade.
The two paratroopers arrived with red, white and blue parachutes, the former waving a 2,500 square foot American flag behind him as they landed on Main Street just south of City Hall amid thousands of residents and visitors. It was a special tribute as a way of saying "Thank you" to everyone who served in the Armed Forces.
Once the flag and parachutes cleared the street, the parade immediately began with Porterville Police and California High Patrol officers clearing the way for the American Legion Post 20 Color Guard, followed by police at horse from Goshen and Hanford Elks Lodge before continuing with Parade Grand Marshal. Glen Lilly, Commander of Station 20 of the American Legion Robert Lassotovich, Auxiliary President of Station 20 Holly Chapman and Veterans Day Homecoming Queen Miss Porterville Briar Rose Tillery and her court – Princess Kambria Rohrbach, and the attendants Janessa Alba, Mariah Ruiz and Mia Daugherty, who floated on a blue float with an American flag in front and the flags of the Navy, Army, Marines, Coast Guard and Army of the air behind them.
The Porterville Panther Band, the first of many school groups, led the rest of the parade which included separate vehicles carrying Porterville Mayor Martha A. Flores and individual council members, and an array of entries ranging from an assortment of groups, auto clubs, motorcycles, sports and youth organizations, school clubs, and brightly decorated patriotic tanks, a boat, jeeps, and other vehicles carrying many veterans.
SETCO – Southeastern Tulare County Republican Women – won the contest trophy with their "Porterville Vietnam Heroes" float – which featured a helicopter, military flags and crosses, and lists with the names of all of Porterville's sons who died in the Vietnam.
Tulare County Sheriff Mike Boudreaux walked behind the Tulare County Sheriff's band, right behind the Tulare County Sheriff's colorguard and drummer, and ahead of numerous deputies.
Sheriff Boudreaux waved to the crowd, frequently stopping the unit when he saw veterans in the crowd. Boudreaux and the deputies turned and saluted to thank the veterans. It was something they did over and over as they walked the parade route.
At 11 a.m. a loud horn signaled the parade to a halt as thousands of people along the parade route faced East to acknowledge the end of the First World War with a moment of silence before continuing the parade.
Watching the parade route from Porterville City Hall, Vietnam veteran Curtis Morrison, who served from January 1964 to 1966, said Veterans Day parades in Porterville were among the best ever. as he lived in Tennessee, Colorado and currently lives in Arizona.
"I love it," Morrison said. "They show a lot of respect for veterans in this parade. I really appreciate that."
The 104e The Porterville Veterans Day Parade had 107 entries following Main Street from Morton to Orange Streets.