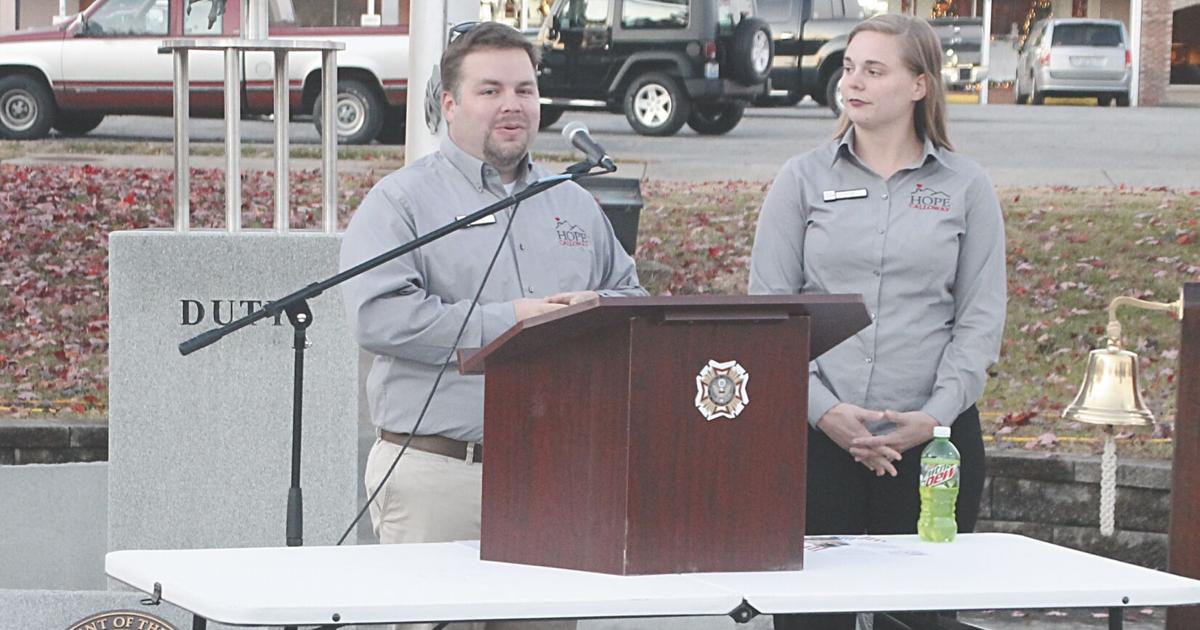 HOPE Calloway Announces "HOPE for Veterans" Program | Local News
MURRAY – Days before the start of National Hunger and Homelessness Awareness Week, HOPE Calloway announced on Veterans Day a new program to address the persistent problem of homelessness among veterans.
The organization made the surprise announcement during the Herman Eddie Roberts Post 6291 Foreign Wars Veterans Ceremony at the Veterans Memorial in Chestnut Park. HOPE Calloway Executive Director Nathan Carter began by giving the assembled crowd a brief recap of how HOPE Calloway was formed in September 2020 by merging Gentry House with the Murray-Calloway County Homeless Coalition. Gentry House was founded in 1997 to help families, while the coalition formed several years ago to help people with and without children, opening OpportUNITY House with five apartments for transitional housing in July 2019.
"For nearly 25 years, we've provided transitional housing for people experiencing or facing homelessness," Carter told the crowd. "It seemed appropriate to announce today that we are launching a new program called 'HOPE for Veterans' to provide transitional housing for homeless veterans and their families. Every night in the United States, there are nearly 100,000 or more homeless veterans, and we think it's time we did our part to bring that number a little closer to zero. So we are very excited about the program. There are going to be a lot more announcements about this, but we wanted to share this with you all first.
The program will include what are called "tiny houses," which are small structures designed to meet a person's basic living needs while occupying a minimum amount of land. In some parts of the country, homeless organizations have formed small villages made up of tiny houses, which allow people to live in safety while they work for a more stable financial footing. The houses that will be used by HOPE for veterans, programs must meet standards set by the Americans with Disabilities Act.
"We have a 'tiny house' being built that is fully ADA compliant and wheelchair accessible," Carter said. "So if we have veterans and their families who have (related) mobility disabilities, they could access it and have a roof over their head and a place to sleep."
Courtney Kendall, customer support specialist at HOPE Calloway, who is a second lieutenant in the Army National Guard, said she was very grateful to be able to make the announcement in front of a crowd gathered to honor veterans. .
"I think it's going to be awesome, and I also want to thank all of my current, past, and future service members for their service," Kendall said. "I know what a sacrifice it is, and some of the things you've all been through are just more than I could ever talk about. As Nathan mentioned, it will be transitory housing, and with transitional housing we offer supportive coaching. It can focus on many different areas, but it can be career development, financial well-being, housing stability, and personal growth, which is exciting. Additionally, we know that veterans have special needs and have been through a lot, so we made sure to partner with organizations in the community that help serve our veterans…so that we can better serve veterans while they are in our transitional housing program.
Carter said the program has been in development for about six months. Kendall said she was on a nearly five-month basic officer leadership course in Fort Lee, Va., when Carter called her about the idea. Kendall then visited a place in Shelbyville that has small homes for veterans to see what the fuss was about.
"In the meantime, someone called us to donate the funds and the labor to donate a tiny house, so I guess it was just some kind of perfect storm," said Jennifer Riley, Chair of the Board of HOPE Calloway. "It's a thing of God, that it all came together and worked."
According to a flyer from the organization, the HOPE for Veterans program will allow veterans and their families to work toward regaining their independence. The program can last up to 18 months.
"Courtney, Nathan, this is great," Post 6291 Commander Ryan Buchanan said after the announcement. "We are more than delighted. I've tried to keep my mouth shut about it ever since I was told about it (before the official announcement). I want to say to you, on behalf of the VFW, all the necessary support for this project, do not hesitate to contact me and my post members, and we will help you to adapt in any way possible.
When reached by phone on Friday, American Legion Post 73 Commander Billy Lauffer Bill Cowan said he didn't know much about the program yet, but veteran homelessness is certainly an issue he is concerned about and which Station 73 hopes can prevent by helping people with claims to the Veterans Administration. He said while he wasn't sure exactly how much of an issue veteran homelessness was in Calloway County, people can sometimes be seen at intersections around town asking for money and holding signs. saying things like "homeless veteran". He says he often wonders if these people are aware of the services that are available to veterans locally.
"It's something that concerns us, and there are a lot of issues facing veterans, which is why we have our two service officers (Mark Kennedy and Lois Wells) there at the American Legion the Tuesdays and Wednesdays," Cowan mentioned. "Service members or their families can come for advice and help because there are many things that are available through the VA, such as monetary assistance. We routinely file 20 or 30 applications a month for people, especially with widowhood pensions. There are a lot of veterans who come in with medical issues that we help them with, and I'm sure most veterans who are homeless probably have medical issues that are contributing factors. If so, that's where we can help. We have no mechanism to provide monetary support like rental assistance just because they are homeless, but we can certainly file claims that can help in that direction.