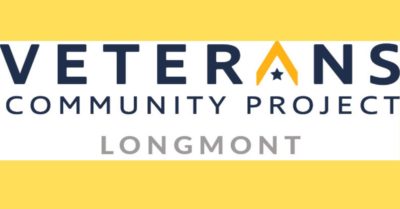 Longmont Veterans Community Project – KGNU News
Listen:
The men and women who bravely served our country as members of the United States Armed Forces represent approximately nineteen million people, or less than 10% of our country's population, but have fought and provided security for dozens of million here in the United States and all over the world. This unique and extraordinary group of people sacrificed their safety, suffered permanent physical and mental disabilities and, in some cases, even lost their lives.
Among these major challenges veterans face after leaving the military, the most common are unemployment and homelessness. Our country has relied on the resources of the Department of Veterans Affairs known as the VA, which has traditionally been tasked with helping to provide medical, educational, and home assistance to those attempting to return to daily life, however, they were unable to support every veteran in need.
The Veterans Community Project, founded in 2016 by a group of veterans in Kansas City, Mo., is committed to working to address the service void due to government guidelines and procedures that have left fellow veterans neglected and left behind fighters. These dedicated veterans help provide housing for other veterans, armed with the strength and support of many community partners.
The goal of this Veterans Core Group is to say "yes" to any veteran in need, helping them achieve self-sufficiency and housing stability, regardless of their discharge status.
Since 2020, VCP Longmont has served three hundred veterans across the Front Range and housed forty through walk-in, agency and street services. VCP provides individual case management through evidence-based tools connecting veterans and their families to a network of over forty-five service partners and creating pathways to independence and stable housing. Additionally, VCP distributes emergency relief funds for rent, utilities, and other necessities.
Over the coming year, VCP will continue to support veterans through services at the Longmont Outreach Center and will add a 26-unit tiny transitional housing village with a 3,000 square foot village community center where veterans will have on-site access to weekly case management services and community engagement.
The VCP Village offers everything a veteran needs to live in dignity and security; trauma-informed design with new furniture, appliances, housewares, bedding and utilities, free of charge. Once each Veteran's desired goals are achieved, VCP assists each Veteran in finding a permanent housing solution and continues follow-up case management for one year. Each veteran is allowed to take all the contents of their tiny house with them as they transition into a new life.
Jennifer Seybold, a native of Colorado Springs, is the executive director of the Veterans Community Project. Jennifer earned a bachelor's degree in organizational leadership with specializations in nonprofit management and small business entrepreneurship.
Jennifer is an influential leader serving the Denver and metro area community for over 10 years with several Colorado nonprofit organizations. Her passion and desire to do more to help homeless people grew out of very personal reasons and grew when she served for two years as Executive Director of Cold Weather Care, a non-profit organization dedicated to empowering homeless individuals and families in Adams County, Colorado. help them regain control of their lives.
She is dedicated to serving marginalized and high-risk populations and has helped many organizations with the same dedication to find and implement solutions to overcome significant barriers by developing community partnerships that have built strong, long-lasting support. term for causes and positioning organizations that really make a difference.
Jennifer lives in Longmont and is a devoted mother to her three daughters, Hale, Shelby and Skyler. She sits down with Tish Beauford on "A Public Affair" to discuss the veterans' community project, their Tiny Homes village, their future community center and expanding their services beyond Colorado.
More information about the Veterans Community Project is available at their website.
You might also like: