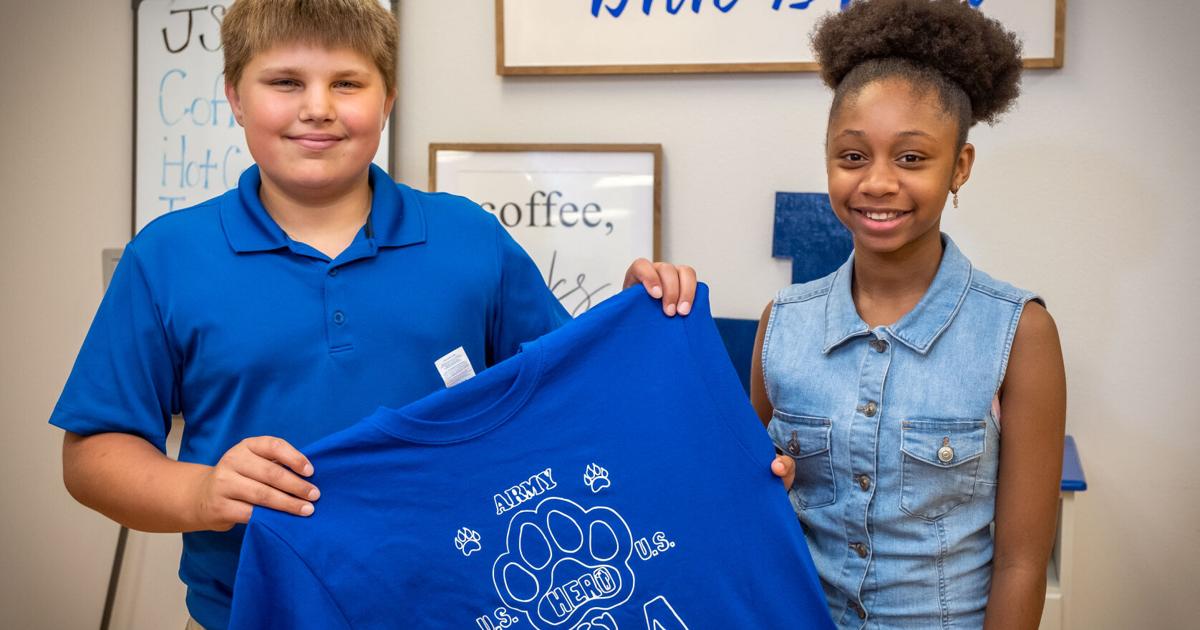 Longview ISD College Students Design Shirts to Benefit Veterans Charity | Education
The Veterans Assistance Dogs of Texas organization is set to receive a $400 donation this month thanks to the work of students at the Judson STEAM Academy.
The Year Six class at Longview ISD School were challenged to plot dots on an airplane to create a charity-inspired design as part of a competition.
Students Cy Marsh and Kyleah LaBouve, who recently completed sixth grade at Judson, said they chose Veterans Assistance Dogs of Texas as their charity because they love dogs.
The organization breeds service dogs for veterans. Keeping that in mind, Cy said her band's design included paw prints.
Maths teacher Shea Powell said teachers brainstormed a good project that would wrap up the unit and give students a chance to do a service project.
Fellow maths teacher Devon Thomas said the whole class voted for the best design and decided the design would be printed on T-shirts which the pupils could sell to raise money for the charity.
The shirts sold out quickly, raising $400 to donate.
Kyleah said she goes around her neighborhood selling shirts.
"It lets me know I'm helping people," she said. "It was fun. I think I sold about nine or eight shirts in my neighborhood.
During the research, Powell said the students became passionate about their charities.
Thomas said the students came up with some amazing designs and it was hard for the class to vote on.
"We wanted to give them the opportunity to use their math for something that was real to them," she said. "To me, it was really amazing to see them use that because they were able to take kind of an abstract concept and use it for something that made sense to them, and they chose their own bodies of charity."