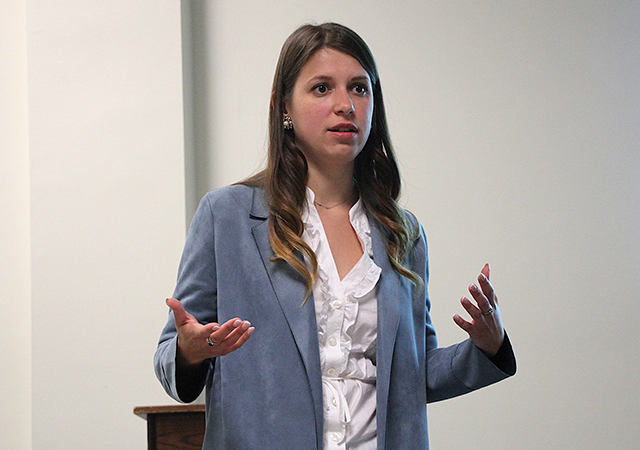 Military and Veterans Program Welcomes Ukrainian Professor
Earlier this week – coincidentally during the national celebration of International Education Week – the University of San Diego Military and Veterans Programs hosted a presentation/discussion event with Mariia Kolokolova, PhD, Associate Professor of Sociology at Karazin Kharkiv National University in Kharkiv City, Ukraine.
Titled "A Test of Democracy: Changes and Challenges after Ukraine's 2019 Presidential and Parliamentary Elections", in which she spoke about the dominating victory of new Ukrainian President Volodymyr Zelensky this year over former Ukrainian President Petro Poroshenko, who was one term one term. President for the past five years.
Kolokolova provided the context of her home country – there are 42 million people, it has been independent since August 24, 1991 and it has seen three revolutions – and she had PowerPoint slides acknowledging the Euromadian and the Revolution of Dignity (November 21, 2013 to February 22, 2014), examining the war in Donbass, a Russian invasion on April 6, 2014 that killed more than 13,000 people, including 3,300 civilians, displaced 1.3 million people and affected 400 000 veterans, and more.
Kolokolova reviewed the reforms and changes that have occurred since 2014 to the present day. That's all, from decentralization, a Ukraine-European Union association agreement, military reform – the number of soldiers has increased to 204,000 from 125,000 – police reform, decommunization, a public system of provision called ProZorro, an electronic reporting system, National Anti-Corruption Office and National Anti-Corruption Tribunal, Health Care Reform and Independence of the Ukrainian Orthodox Church.
While much of American interest in Ukraine stems from current allegations involving US President Donald Trump that have brought an impeachment investigation to the fore, Kolokolova's academic goal is to teach the democracy, civil society and political culture in Ukraine. Kolokolova talks about the challenges in Ukraine. The war in Donbass, corruption, establishment of the rule of law, populism, disinformation and fake news, social disunity, reintegration of former combatants and internally displaced persons (PDI) and Euro-Atlantic integration.
His informative speech at the USD was a bonus for those present. The main reason for its October 19-November. 19 visit to San Diego, and to the United States in general, was due to her being selected for a professional fellowship program offered by the United States Department of State. Originally slated to spend her month on the East Coast, working as an educator and wanting to research military veteran reintegration, she was connected with SHU and Director of Military and Veteran Programs, Amanda Etter.
While staying with host families, Kolokolova also tapped into the resources of USD's MVP program. She spent time with Etter, attended SHU events, and Kolokolova's presence allowed Etter to build relationships with the San Diego Diplomatic Council and the American Councils for International Education and Futures. potential reception of international associates. Etter said there is even an outgoing project – which will be submitted by Kolokolova – that could allow her to travel to Ukraine for the development of a Global Veteran Hub.
"Welcoming Mariia to the military and veteran program has been mutually beneficial," Etter said. "Being able to share our practices at SHU and our partnerships with local nonprofits to work to reintegrate service members into the San Diego community reaffirms the work we do. We look forward to future opportunities to learn and to increase support for those who choose to serve, especially with global impact.
Kolokolova's trip to the United States was her first. It also produced some cultural firsts, but she did well because she was fluent in the English language – she also speaks Russian and Ukrainian. Kolokolova was delighted to meet many Americans, describing them as "open people, nice people", and they smiled a lot. As she spoke highly of the people of her country as "proud" and "hardworking," she expressed a desire for more happiness among her compatriots. "I wish our (Ukrainian) people smiled more."
She was thrilled to see a high level of dedicated volunteerism in San Diego, but also noted the city's homelessness issue and its impact both locally and in the United States. She also gave an overview of the city of Kharkiv where she lives and teaches in Eastern Ukraine. The city was founded in 1654, has 1.5 million inhabitants and 84% of its inhabitants speak Russian. The city's budget, which she compared to San Diego's, is $516 million compared to America's Finest City's $4.3 billion.
But Kolokolova's research dominated her time in San Diego. His work in the United States helped shape one of his dream goals.
"I would like to start a network among researchers to connect and unite with non-profit organizations that work closely with veterans. The network would unite and advise governments on the reintegration of veterans. We would build the network in Ukraine and internationally to offer advice to help advance a national strategy.
—Ryan T. Blystone