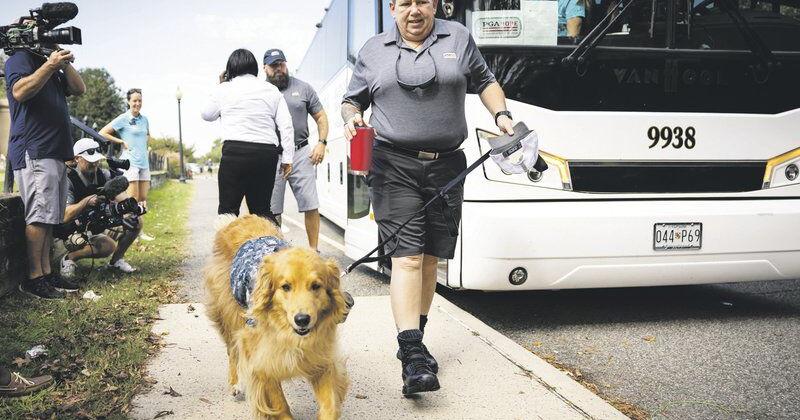 On the bright side: Downsville woman becomes ambassador for PGA Veterans program | Local News
A commercial that aired during the 2019 Masters Tournament changed the life of a Downsville woman.
Rhonda Liddell said she was watching the return of Tiger Woods when she saw an advertisement for PGA HOPE (Helping Our Patriots Everywhere) and became interested in the program. The PGA HOPE program is part of PGA REACH, a 501(c)(3) charitable foundation of the PGA of America that also oversees the PGA Jr. League and PGA WORKS programs, according to its website.
PGA HOPE is a national program that introduces golf to veterans to improve their physical, mental, social and emotional well-being, according to a press release. Led by PGA professionals, the program is offered free to veterans, and there are 165 PGA HOPE chapters across the country, "positively impacting more than 3,500 veterans each year," the statement said.
Liddlell joined the PGA HOPE Northeastern New York program, she said. The only downside was that the closest golf course that offered the program was in Colonie. She signed up and drove the two hours each way to the town of Colonie Golf Course to participate in the six-week program.
"I didn't even know if I would be able to swing a club," she said.
Liddell said she was 100% disabled and could only use one arm to swing a club. Liddell is a U.S. Navy veteran who served from 1986 to 1993 and served in the first Gulf War, she said. She suffered life-changing injuries when she was hit by a drunk driver while on duty. She suffered a traumatic brain injury and suffers from post-traumatic stress disorder, she said.
Liddell said she was a single mother of two productive young adults and the injury she sustained on duty gave her the financial stability to be able to raise her children. She said she grew up in Liberty, but her mother moved to Downsville. After being injured, she battled PTSD and it was recommended that she move closer to home, so she moved to Downsville, she said.
After her children went to college, she said, she was trying to find something she could do when she saw the aforementioned advertisement. She and her service dog, Remy, traveled to and from Colonie for the 6 p.m. lesson for six weeks and she "fell in love with the game," she said. Remy also likes the game, she says.
Liddell said she trains in her front yard and goes to Windham Country Club once a week. The Adaptive Sports Foundation has a partnership with the golf course that allows her to play the golf course for free whenever she wishes.
She has continued to take the course for the past two years and has been nominated to attend the 2021 PGA HOPE National Golf and Wellness Week at the Congressional Country Club in Bethesda, Maryland.
"I don't know 100% how I was nominated or how I was selected," she said. "They only select 20 veterans from across the country. I know they wrote about my commitment to the program."
The program took place from October 14 to 18 and "the weather cooperated," she said. "It was very hot, in the 80s in DC the first two days, then it was windy and cooler, but it was beautiful the other two."
Veterans who participated in the program took lessons on and off the golf course, she said. They took courses in how to use social media to engage people, work-life balance skills, public speaking and stress management.
"Day one we were able to play golf at the East Potomac Golf Course," she said. "We chipped and putted and had a nine-hole scramble. Day two we were able to use a swing tracer."
She said even with one arm she swung the club at 64 mph.
For the rest of the stay, they played at the Congressional Country Club and each veteran had their own locker, she said. There they played 18 holes of golf. After the course, she was named an ambassador for the program and had her first public talk about the program Monday at Saratoga National Golf Club.
She said she hopes her speaking engagements will broaden the program as it is only offered in the Colony. She said she would like SUNY Delhi or the Meadows in Margaretville to offer the program.
"I know I could round up 20 vets and make the program a success," she said.
She encouraged any veteran interested in the program to visit the PGA Reach website at pgareach.org and click on the PGA Hope link.
"I recommend it to any vet who has ever had an interest in golf," she said. "It costs nothing except gas."
Vicky Klukkert, editor, can be reached at vklukkert@thedailystar.com or 607-441-7221. Follow her @DS_VickyK on Twitter.