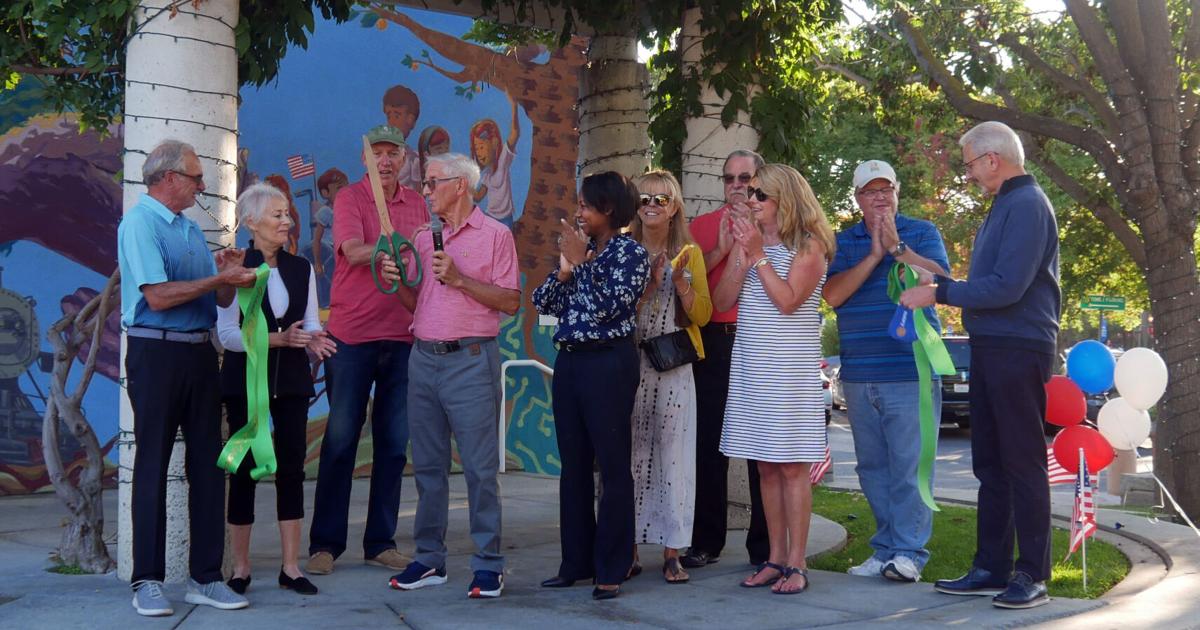 Rotary Club Unveils New Mural at Veterans Community Plaza | Community
The Rotary Club of Los Altos unveiled a new mural, "Together We Can Grow," at Veterans Community Plaza on September 14, by artists Jordan Fong and Oscar Lopez.
At the premiere of their creation, located on the wall outside the Citibank building at the intersection of Main and State streets, Fong and Lopez shared the message they hoped to convey through their mural, a project that took them months.
According to Fong, a Los Altos resident and art professor at Foothill College, the theme of the mural is human nature and how people come together as a community and group to identify with one another.
"It was truly a journey for all of us," said muralist Lopez. "This place is rich in culture, which inspired the iconography of the mural."
The mural's iconography includes native California oak and motifs reflecting the native Ohlones, the earliest known residents of Los Altos.
Lopez also pointed to the hands of the figures depicted in the mural, as they symbolize how the community passes on many things, such as the value of the land.
"At the same time, it can also convey people's values," he said. "He can transmit many other things just by giving: giving to the community and giving to others. With this we can grow together.
The Rotary Club's Veterans Committee funded the mural as part of its commitment to improving the square, with Rotarian Ron Labetich spearheading the project. At the unveiling, Labetich thanked the Los Altos Village Association, Foothill College and Kiwanis Club, as well as local residents Susan and Tom Harrington, Kathy and Lee Lera, Carol and Jerry Moison and Marilyn Labetich, for their financial support.
Labetich also credited owner Joe Jisser, Citibank executive Giovanni Cedillos, and City of Los Altos Special Projects Manager Dave Brees for helping secure placement of the mural at Veteran's Community Plaza.