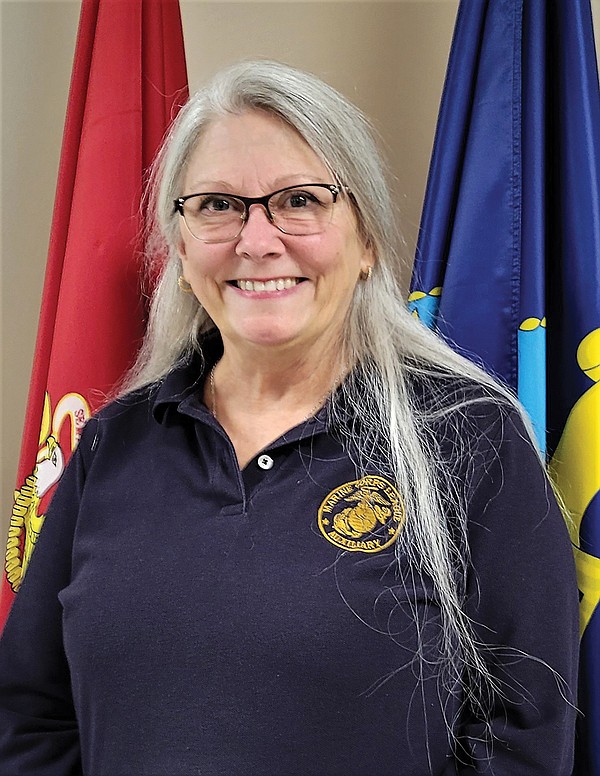 Sanning embraces a passion for supporting veterans, the community
Born into a military family, Dotty Sanning grew up in many places while her parents made careers in the United States Air Force and in the federal civilian workforce.
Years later, she married a Marine, once again adopting an itinerant lifestyle while developing a lifelong interest in activities to support and honor the country's veterans.
Born at Chanute Air Force Base in Illinois, Sanning's father brought the family with him on several interesting military assignments, including missions in the United States and several years of living in France.
"I attended high school for a while in Easthampton, Massachusetts, but during Christmas break my senior year we moved to Kansas City," Sanning said. "I graduated from Ruskin High School in 1975 and later married someone in the Air Force, with whom I had a daughter in 1977."
She and her first husband later divorced, influencing her decision to move to Arizona, where her mother was employed as a civil servant. In 1979, she and her daughter moved to California, embarking on an interesting new time in her life.
"When I was living in California, I met Alan Sanning, who had been in the Marine Corps for a few years and was stationed at Camp Pendleton," she said.
In 1981, the former Dotty McRae became Dotty Sanning, marrying his fiancée. Over the next few years, his family grew with the addition of two daughters and a son, as they traveled to several locations and Alan finished his career with the Marine Corps.
"Each time we moved to a new duty station, I first stayed home with the kids until everyone was settled, then I got a job," he said. she declared. "That's why it took me about 25 years to graduate from college."
With each posting change, Sanning explained, she became involved in different groups and activities that supported active duty service members. While her husband was stationed at Camp Pendleton, this included joining the Staff NCO Wives' Club.
"Eventually I became president of the club and I really enjoyed it," she said. "It wasn't just because of the camaraderie with other women in the group, but we were involved in activities that were of service to others, something my parents instilled in me from an early age."
In the late 1990s, when her husband retired from the Marine Corps, the Sanning family moved to Alan's hometown of Jefferson City. With some of their children still in their youth, Alan stayed home with their younger children while Dotty worked.
Employed briefly for a few different medical facilities, Sanning was eventually hired by the Jefferson City Department of Parks, Recreation and Forestry. Until her retirement in 2019, she performed a range of administrative duties including budgeting, finance and accounting.
"Before my husband left the Marines, he joined the Marine Corps League," Sanning said. "After we moved to Jefferson City, he suggested I join the Marine Corps League Auxiliary, which I did."
Fully invested in the auxiliary, Sanning rose through the ranks with the local Marine Corps League Auxiliary unit and went on to serve in several state and national capacities within the organization. Currently, she is the National Junior Vice President of the Marine Corps League Auxiliary.
"I love meeting people at all of our events, the camaraderie and being able to help others," she said.
Sanning also became a member of the Marine Corps League Auxiliary Unit at Lake Ozark, assisting the group in numerous charitable endeavors. Additionally, she is currently helping an auxiliary unit organize in Maryland, drawing on her extensive experience as a volunteer at various levels within the organization.
"Wherever there is a need, the auxiliary tries to be there and help," she said. "We collected items to support the Rape and Abuse Crisis Center; on another occasion, we bought supplies and painted the bathrooms for the Special Learning Center. Then, she added, there are also the care packages that we have sent to our deployed troops and veterans in nursing homes.
Seeking to be part of an organization that supports veterans from all branches of the military, Sanning also became a member of the American Legion Auxiliary in Jefferson City.
"The Legion Auxiliary does many service projects that are different from the Marine Corps League Auxiliary, but everything we do helps veterans and the community, like giving time, money and items at the VA hospital."
As Sanning has argued, she was imbued with a great respect for the military and a sense of public service from an early age. These were the first lessons she passed on successfully, as evidenced by the fact that three of her four children went on to serve in the military.
"There's always a new or different need that comes up that we're happy to help with…whether it's a project graduation, donations to the fire department during Fire Safety Week or making blankets for veterans in the hospital," she said.
She concluded: "When you volunteer, I have found that not only is it important to be able to effectively channel that passion, but you also have to be a leader, striving to encourage and mentor others. volunteers so that they may succeed as well."
Jeremy P. Ämick writes on behalf of the Silver Star Families of America.