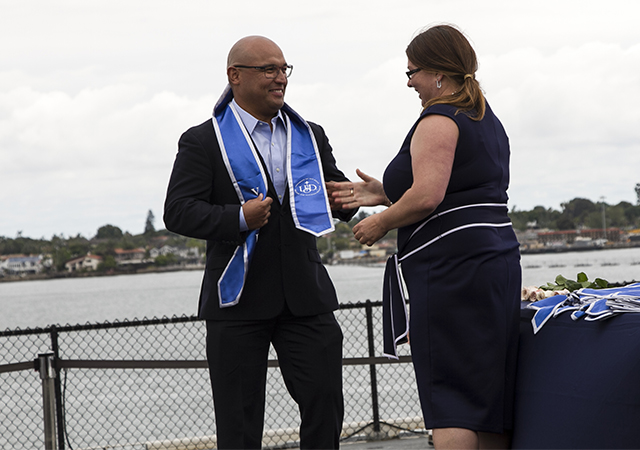 SHU Military and Veterans Program Honors 2019 Graduates
A blustery, overcast Thursday in San Diego was no match for the festive elements on display aboard the USS Midway as the University of San Diego's Military and Veterans Program (MVP) held a recognition ceremony for honoring 45 military-related men and women who will be among 219 military-related graduates who participated in SHU's kick-off exercises later this month.
Amanda Etter, MVP Director and herself a military veteran, and her staff hosted a truly special ceremony for SHU graduating students receiving bachelor's, master's and doctoral degrees. Etter said USD currently has 782 students at USD who identify as military-related, which includes veterans, active-duty military and military family members.
Aboard the USS Midway in downtown San Diego for the second consecutive year, the program included a moving rendition of the Stars and Stripes, followed by remarks from Etter, SHU President James T. Harris III, keynote speaker, retired Marine Corps Colonel and current USD Board Member Daniel C. Herbert '82, '86, undergraduate Andrew Christensen '19 and graduate student Austin Galy '16, '19.
The presentation of the special graduation stoles took place as Etter wrapped them around each graduate's neck and they were congratulated by President Harris and Herbert.
Etter took the opportunity to speak out publicly thanks to a few strong partnerships MVP has formed on campus.
Etter honored the USD Career Development Center for his work with military-related students. She expressed her gratitude to Kacy Kilner Hayes, Assistant Dean of Graduate Programs at the USD School of Business, for helping her secure a funding award from the USD Envisioning 2024 strategic initiative to launch a USD military hub. Etter also thanked SHU's Senior Director of Foundation Relations, Annette Ketner, for her and her team's unwavering support of the MVP program.
To learn more about the SHU Military and Veterans Program, please visit their website.