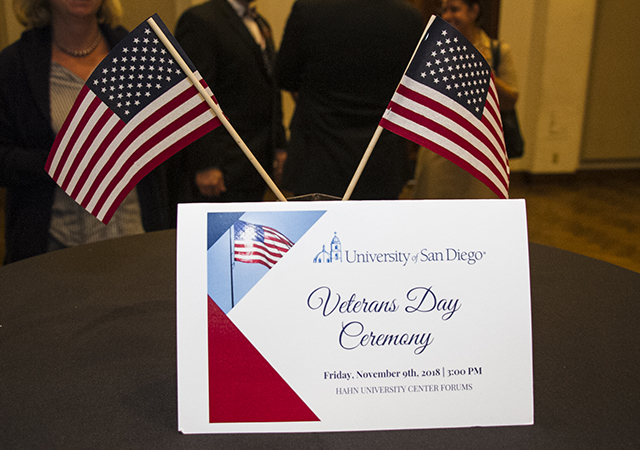 SHU's Military and Veterans Program Hosts Veterans Day-Inspired Ceremony
Veterans Day, which is officially celebrated annually on November 11, arrived just days earlier at the University of San Diego. The institution's Military and Veterans Program held a Veterans Day Ceremony in the Hahn University Center Forums on Nov. 9 and it was a wonderful tribute to those who serve the United States of America. .
A program led by USD senior business major and Navy veteran Calder Epes, who served as master of ceremonies, featured a video interview and subsequent national anthem sung by USD student Mary-Logan Miske, the daughter of a military veteran, with the USD Naval Reserve Officer Training Corps (NROTC San Diego) Color Guard presenting the colors during the national anthem; and an Invocation given by the Minister of the SHU, Father Gino Correa, OFM.
Inspirational and gratitude-filled remarks were delivered by SHU Vice President and Provost Dr. Gail Baker, who received an American flag following her speech; Amanda Etter, Director of the SHU Military and Veterans Program, who is a Marine Corps veteran; and the president of the organization of veteran students of the USD, Humberto Bringastrejo, also a student of the USD.
A touching presentation came as Simon Sandoval, a retired USMC student veteran who attends SHU, stood alongside Marines from Marine Corps Recruit Depot San Diego and finally received his own American flag. after his journey through the Marine Range. At the same time, Epes delivered the poem "My Name is Former Glory" as the flag passed from Marine to Marine with a salute. Once he reached Sandoval, he hugged him to his body, cherishing the moment.
There was a segment in which all attendees who served the U.S. military in the Army, Navy, Marine Corps, Air Force, and Coast Guard were asked to stand while their respective theme songs were played. There were SHU students, alumni, staff and faculty members among those who were saluted.
Epes delivered a series of thanks and introduced Dale Gumzor, 92, a Navy commander who is a veteran of World War II, the Korean War and the Vietnam War. Before Epes closed the event and invited the public to join in a cake-cutting ceremony and enjoy other refreshments, he offered a poignant message.
"As we part ways today, I challenge you to try to truly connect with a veteran every Veterans Day and reflect on how it all began in 1918. Words from the author and WWII veteran Kurt Vonnegut does more justice to this moment in history than I could ever hope for.
"It was during that minute in 1918 that millions and millions of human beings stopped killing each other," Vonnegut said. "I spoke to old men who were on the battlefields during that minute. They told me somehow that the sudden silence was the Voice of God. So we still have among us men who can remember when God spoke clearly to mankind."
Said Epes: "Vonnegut criticized the change from Armistice Day to Veterans Day. He perceived Armistice Day as 'sacred', while Veterans Day was not. I am not disagree with Vonnegut and I strongly believe that Veterans Day is as sacred as we do. But it's hard to deny the inherent depth and beauty of his reasoning: that November 11 should be considered a to celebrate humanity's ability to achieve peace instead of conflict, to overcome its lowest instincts and to strive for a better and freer world. Thank you.
The University of San Diego wishes a Happy Veterans Day to all the men and women who serve and have served in our armed forces and our country, past, present, and serving in their future. SHU thanks the 750 members of the military-related community who take courses at SHU and work towards their degrees in our undergraduate, graduate and law schools. It is with pleasure that we help you to serve you.
—Ryan T. Blystone
Permission to link to "My Name is Old Glory" is courtesy of an interview recorded by the Fort Collins, Colorado Public Library with its original author, Mr. Howard Schnauber.