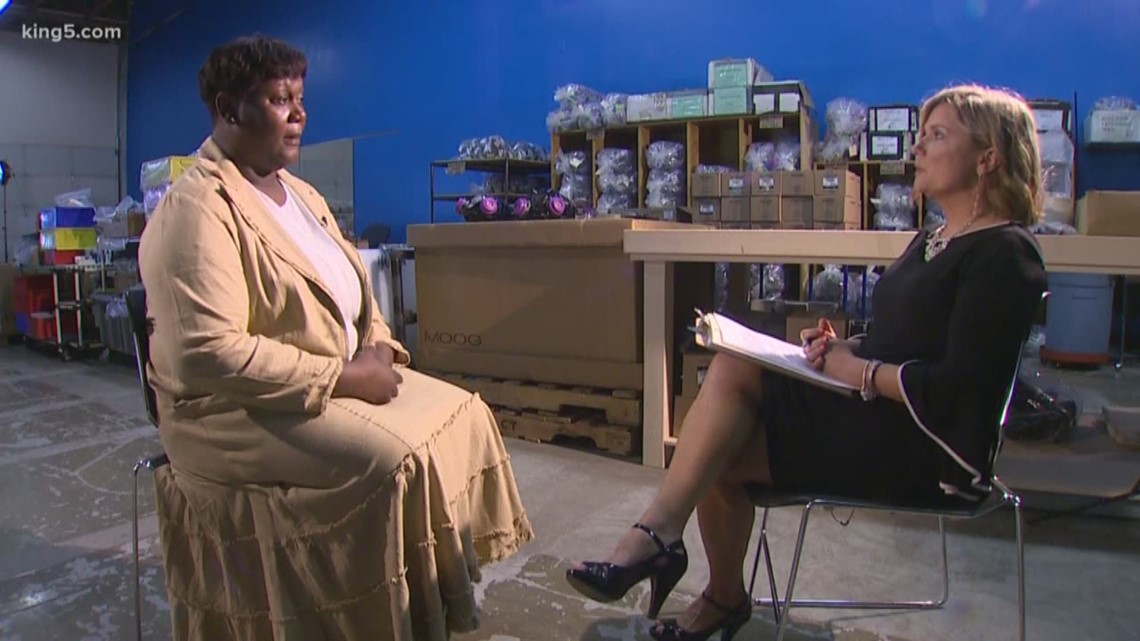 State to take action against Pierce County veterans charity after chief embezzled funds
An eight-month-long KING 5 investigation led the state Department of Commerce to file a lawsuit against a longtime charity.
PIERCE COUNTY, Wash. – Washington State Department of Commerce officials announce plans to file civil lawsuits against independent Washington veteran businesses (TO SEE), a beleaguered Pierce County charity whose mission is to provide employment and housing to homeless and disabled veterans.
The move comes after eight months KING Survey 5 thousands of exposed dollars were diverted from the nonprofit University Place. The money was spent at local casinos, withdrawn from casino ATMs, and used for the personal gain of the woman in charge of the operation.
the Commerce Department (Commerce) has had a relationship with VIEW since 1992. At that time, the state provided money to the charity through the state. Housing Trust Fund (HTF). The Legislature established the HTF in 1986 as a means funded by state taxpayers to provide affordable housing to residents across the state.
Commerce awarded VIEW approximately $180,000 to purchase four homes in Tacoma to house low-income veterans who participated in the charity's program. The funds came with conditions attached, outlined in a 16-page document Contract. Commitments included maintenance of properties, submission of annual financial reports and do not borrow money against houses without the written approval of Commerce.
RELATED: Pierce County Nonprofit Leader Paid Rent With Veterans' Money, Documents Show
RELATED: Woman Accused of Abuse of Veterans' Benevolent Funds in Pierce County Has History of Similar Behavior
But VIEW broke its promises and violated the conditions attached to this funding, according to state match recordings and interviews with trade executives. The charity failed to maintain the homes and borrowed about $1 million against properties without state permission.
"One of the covenants they make is that they're not supposed to take on any new borrowings without Commerce's permission. And in this case, we find out they did," said Jasmine Vasavada, Legislative and Policy Director of the Department of Commerce. "We consider this a violation."
Vasavada said this is the first time in the history of the housing program that the state has sued a Housing Trust Fund community partner. Trade officials said the purpose of the litigation was to have another nonprofit take over the accommodation currently owned and operated by VIEW in an effort to continue serving veterans in need.
"It's an extraordinary situation for us," Vasavada said. "Our mission is to ensure in this case (VIEW provides) transitional housing for 17 veterans. If the nonprofit is unable to deliver on that promise, it's our turn to take action to fix it.
Since HTF began, the state has invested $1 billion in the program which currently houses 80,000 people.
"We take our stewardship role very seriously," Vasavada said. "Ultimately, we are accountable to the state of Washington for the money we oversee."
Trade officials said the department began investigating possible lawsuits after seeing KING's initial reports on the VIEW.
"In August 2019, Commerce acquired additional information and documentation, in part disclosed through KING 5 reports, which confirmed the agency's hesitations and doubts about VIEW's intent and ability to abide by the terms of the contract," said Penny Thomas, director of media relations at Commerce. , written in a statement which included a timeline of events regarding VIEW's interactions with the state.
Veterans Independent Enterprises of Washington operations director Rosemary Hibbler, the person at the center of KING's investigation, said Commerce's approach was unwarranted.
"This whole story is unfair and the continued attacks on us constitute border harassment. We shouldn't be persecuted by Commerce when we've done nothing wrong," Hibbler wrote in a November 4 email at ROI 5.
Hibbler added that the Commerce did not inform them of the breaches of contract and that borrowing the money was necessary and not against the rules.
The trade did not contact VIEW directly and we were not notified of a violation. In addition, the contract does not include a clause prohibiting us from (contracting additional loans). The trade did not contact VIEW directly," Hibbler wrote.
Veterans Independent Enterprises of Washington has operated in Pierce County for over 30 years.
In 2016, under the new leadership of Army veteran Hibbler, the organization began to descend into chaos.
As indicated in a class action against VIEW, veterans working in the association's workshop began to be paid late. At one point, they weren't being paid at all. Several employees filed complaints with the Washington State Department of Labor and Industries. The class action lawsuit was filed in 2018 on behalf of 72 VIEW employees.
In legal documents and correspondence with KING 5VIEW argued that it paid the employees what they were owed.
Previous KING 5 Reports exposed around $300,000 money from the association was spent on unexplained transactions from May 2018 to April 2019. Recently obtained bank statements analyzed by KING reveal other ways the charity's money was misused. They understand:
In August, Hibbler did not explain debit card use at casinos or other suspicious spending, but she denied using VIEW money for personal gain.
"No. No, (I didn't steal). What I did was commit to making sure the OUV stays, the doors stay open and we continue to support our veterans said Hibbler.
Trade officials said if money meant to repair and maintain properties was diverted for personal use, action should be taken.
"Of course, we are unhappy if the funds are misappropriated. We have an affordable housing crisis in Washington State. We cannot afford to waste a dollar," Vasavada said. "If the money is drained from these properties, we have to make sure that (we) fix it."
KING 5 first revealed the misuse of charitable funds three months ago, but Hibbler remains in charge of VIEW. Board secretary Gary Peterson said they were supporting her, but added that the KING 5 reports had made them "suspicious".
These last weeks VIEW made repairs at least one property.
The chairman of the board declined to speak with KING.
The class action lawsuit is expected to be settled this month.