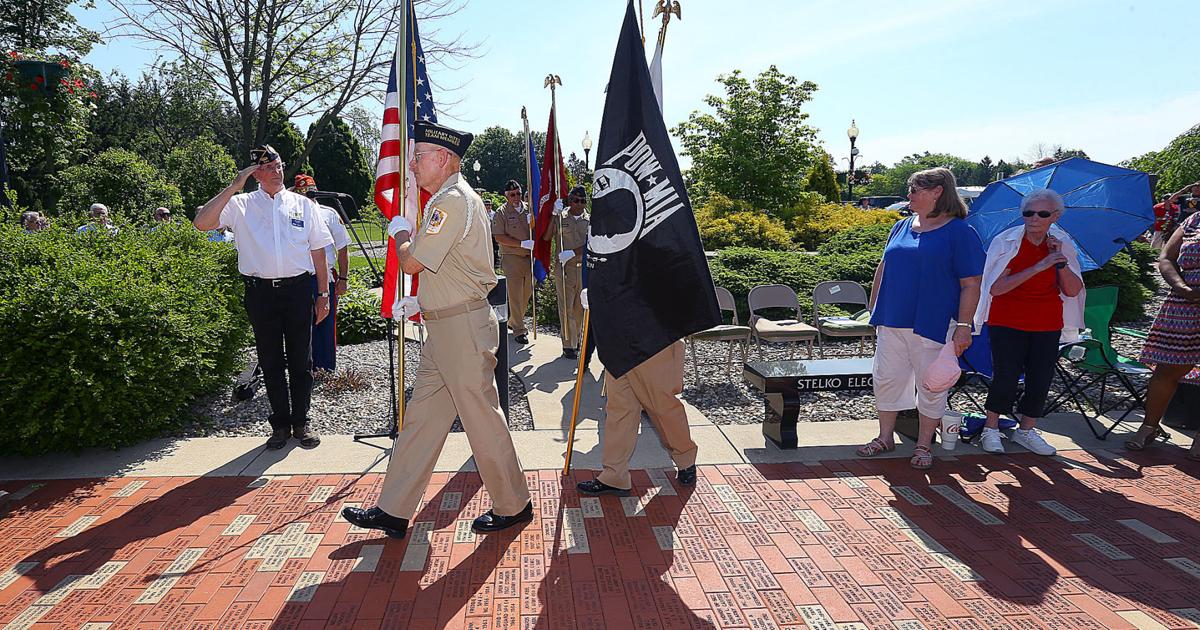 United Way Cements Veterans Program, Aiming to Fix 'Complicated and Fragmented' System | Local News
United Way serving Howard and Tipton counties has solidified an initiative connecting military and veterans, and their families, to services ranging from housing to dental co-payments.
The program, titled Mission United, aims to solve "the complicated and fragmented systems for veteran services currently in place" and alleviate stress for a community of 7,500 to 8,500 veterans, or about 1 in 6 adults. in Howard County, according to the organization.
It is now a permanent program after starting as a pilot program in November 2017.
Mission United, which most often serves veterans in housing need and partners with Jackson Street Commons, connects vets and their families to comprehensive services through a case management system and "works with veterans with multiple issues to define their greatest need and work towards achieving and maintaining the ultimate goal.
Bailey Franklin, director of communications for local agency United Way, said when a veteran approaches the organization, the person is guided through a goal-setting process that assesses their top three needs.
"If that primary need is housing, then we would determine why they are homeless and what they are eligible to move forward with," Franklin said. "If they are living on the streets, we will place them in a shelter while working on permanent housing."
"Our consultations are one-on-one and may include advocacy, joint outreach with other agencies, scheduling appointments, filling out applications, and other steps necessary to achieve or maintain their goals," he said. she added later.
Franklin said Mission United assesses someone's financial situation and works to fit it into existing programs, like Habitat for Humanity, Jackson Street Commons, Kokomo Housing Authority or other VA options.
In general, Mission United targets areas such as housing, utilities, identification, medical care, prescriptions, dental, food referrals, and other community and veteran service resources.
"Mission United helped me pay for my health insurance so I could get the medical and dental help I needed," Bruce Strong, a program participant, said in a statement distributed by United Way.
"My dream was to have a place of my own again," added another participant, Kevin Dyer. "With the help of Mission United, Jackson Street Commons and Habitat for Humanity, I will have a place where all of my grandchildren can come and visit."
United Way, in large part, will help by seeking "several types of financial assistance, including rent, utilities, deposits, birth certificates and other identification costs as well as medical, dental and prescription," Franklin said.
"Through Mission United, we are fighting for those who fought for us," she remarked.
"Howard County has one of the largest veteran populations per capita in the state of Indiana. United Way felt we could help this population through streamlined services in one simple and easy process with a dedicated case coordinator to help guide veterans from start to finish on their journey.
Angie Ciski, director of veterans services at Jackson Street Commons, a shelter for homeless veterans, said Mission United would be a boon for vets struggling to get resources.
"I think prevention works and it's important to be proactive in getting veterans the help they need before they're in crisis," she said. "Many veterans aren't aware of all the resources available to them, don't know how to access them, or get frustrated if they have to go through too many hurdles.
"United Way/Mission United can connect them with up-to-date resource information and help them make the connections they need. [The program] helps ensure veterans are never more than a stone's throw away from the help they need.
Ciski noted that Vietnam-era veterans still make up the largest number of homeless veterans across the country. When Jackson Street Commons opened in 2014, she said, the majority of residents belonged to that era.
The facility, however, has seen a shift in recent years and houses "more younger veterans," as well as people in their 50s and 60s, Ciski said.
Region 5 (Howard, Miami, Tipton, Cass and Wabash counties) had six homeless veterans, including one family, counted in the 2018 point-in-time count. Four of them were in Howard County.
The annual one-time homelessness survey provides a snapshot of homelessness on any given night and is required by the U.S. Department of Housing and Urban Development for every community receiving federal funds for homelessness programs. .
But that doesn't say it all.
"This is just a snapshot of the number of people we were able to count over a 24-hour period. This does not include homeless veterans who are served in our local shelters and homeless programs across the country. over the years," said Ciski, who noted that "veteran homelessness has declined statewide."
Local veterans services took a step back after the part-time Kokomo veterans clinic closed in early 2019, less than a year after it opened. A VA official said the reasons for the closure included the need to move a provider to the Marion VA Clinic and improve access to other clinics.
The part-time Kokomo Veterans Affairs Clinic closed less than a year after it opened, a…
But Howard County Commissioner Paul Wyman, who worked with state and federal officials to bring the clinic to Kokomo, said the VA's decision to close the clinic showed that "a Once again, the bureaucracy inside the VA has failed to provide the level of health care that our veterans deserve."
One thing that makes dealing with Howard County veterans difficult is the travel that often goes along with it.
"For those whose primary health care is provided by the VA, sometimes it's more difficult to access services and get the care you need when you have to travel out of town," Ciski said.
"Especially veterans who need mental health services, I think they're not as likely to use the services as often as they should if they have to travel out of town to see their counselor or their therapist. The VA Choice program has grown in recent years, but veterans whose primary health care goes through the VA still need to be able to access more local services if they want them.
The root causes of veteran instability, Ciski said, are sometimes "a combination of things that can lead to a domino effect."
"Have they been impacted by their military service and struggling with mental health issues, have they had negative childhood experiences that they never really processed that affected them? Some people are just one step away from becoming homeless and may have experienced a traumatic event in their life," she said.
"Maybe they lost their job or their resources to pay for their accommodation. Many homeless Veterans struggle with ongoing, chronic and severe mental health or addiction issues. In Jackson Street Commons, approximately 70% struggle with these issues and many have co-occurring conditions that have been barriers to maintaining stable housing.
Referring to housing, a primary focus of Mission United, she added, "That's why the Housing First model makes so much sense. Once the issue of stable housing is resolved for a person experiencing homelessness, that person will be better able to work through the issues that led to their homelessness in the first place.