Veterans' charity sells Brisbane headquarters after $1.4million drop in donations
The Legacy Queensland Board has taken the decision to sell the Fish Lane premises this year, so the charity can continue to provide services to families.
Property group Aria, which now owns most of Fish Lane, has offered to buy the Legacy Queensland building.
This opened the door to finding a new home for Legacy in Queensland. He had a two-year lease with Aria and was about to get accommodation near Greenslopes Hospital.
Mr Cox said Legacy Queensland had entered into negotiations with the Department of Veterans Affairs and Brisbane City Council to acquire Red Cross Hall from the federal government.
The old buildings at Greenslopes include an older hall and inn, which were used to help families of veterans after World War II.
While most of the money from the sale of the property would go to Legacy Services, the charity needed to find $4.5 million to move its headquarters to Greenslopes.
Coorparoo Ward Councilor Fiona Cunningham has approached Brisbane Mayor Adrian Schrinner to acquire the Red Cross site from the Department of Veterans Affairs.
"The council has also had discussions with Legacy, an organization with a deep connection to this site, about some of this land being used for their services to the families of our veterans," Cr Cunningham said.
The aim was for the Department of Veterans Affairs to clear the land, the council would buy the land and then sell part of it to Legacy Queensland.
Mr Cox hoped Legacy Queensland could move into the new headquarters in 2023, its centenary year, if help could be found.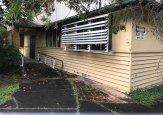 "My predecessors have found a golden solution for us here in South Brisbane," Mr Cox said.
"I have to find a new golden solution for us and I think I found it at Greenslopes.
"Being located opposite a hospital we visit daily and allowing widows to be able to return home to Legacy House across the road would be wonderful."
A spokeswoman for Veterans Affairs said the cleanup and land sale would be accelerated, but would still take up most of 2021.
"Once approved, the remediation work is expected to be a significant undertaking, involving the careful deconstruction of large buildings on the site, the removal of hazardous materials used in their construction, and the excavation and safe disposal about 600 square meters of contaminated soil," she says.