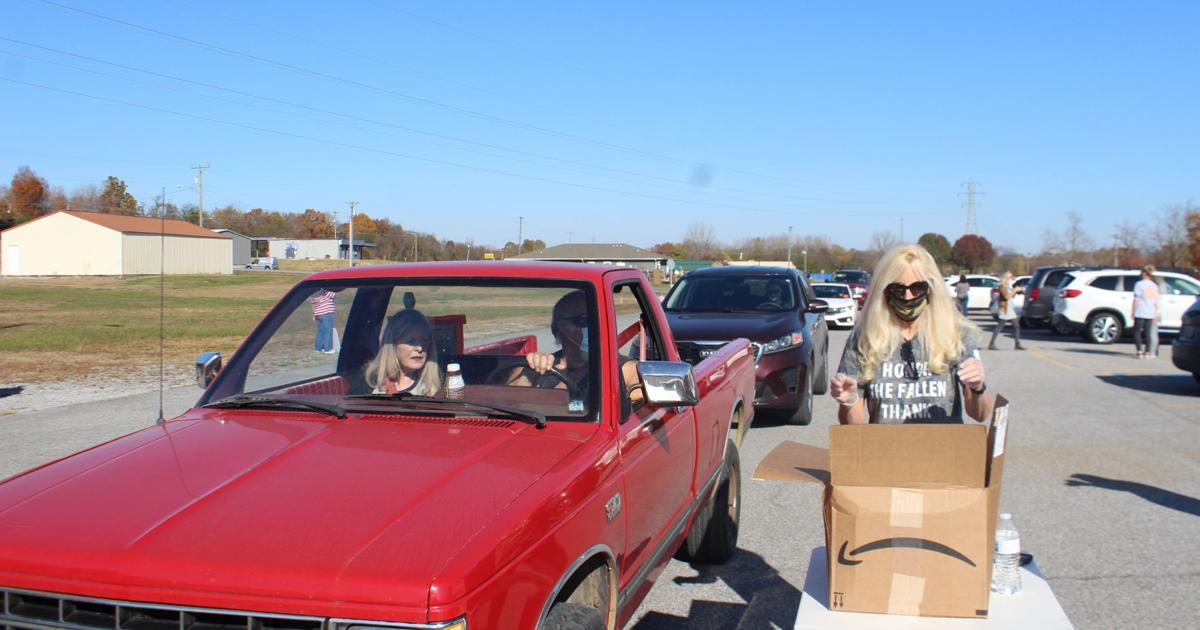 'Veterans Program' perseveres with COVID accommodations, enters third decade of military honor | News
An annual tribute to military veterans that started small and morphed into a program attracting vets from across the region in Lyon County began its third decade on Friday. Known simply as "The Veterans Program", it honored those who served, while teaching elementary school students about patriotism. This year's program was held at Kuttawa Park, as a drive-in event, due to coronavirus restrictions. COVID rules also prevented students from participating. Nevertheless, the show continued last week. Regulars and others gathered, donating T-shirts to vets to commemorate the event.
"We are all socially distant. We have masks. We do it in the safest way possible," explained Terrie White, event founder and key leader over the years. Several members of her family joined her to help her with this unusual edition of the program. "They are very grateful," she said of the vets. "There's one that almost made me cry because he cried. We've seen a few new attendees, but most of them are familiar. I've seen them from our lunches over the years. C is the year 21.
George Davidson, 86, served in the US Army from 1949 through the 1950s, then in the National Guard, for nearly 13 years in all. "I go back to the early days of the school program and have attended most of them," he said, speaking from the driver's seat of his vehicle. "When the kids sang that Lee Greenwood song, 'God Bless the USA', I loved it. The kids are wonderful. In the past, they would write us one-on-one letters and that was good.
Carroll Dorroh, 85, a veteran of the U.S. Army from 1958 to 1960, served in the Ft. Benning, Ga. motor pool. A regular attendee of the program, he also always loved the children's singing. "It kinda tugs on your heartstrings," he said. "It shows me that these kids are raised to appreciate the freedom we have and what it's cost to keep it. I just want to thank Terrie and them for everything they do to make it happen. They work really hard. It's a well organized program and everyone could not but be affected.
Mark Girten, originally from Union County, now lives in Marion. He served in the US Marine Corps from 1974 to 1978, "right at the end of Vietnam", he said. "I didn't go there, but Vietnam came to me. I was at Camp Pendleton at the end in April 1975 when Saigon fell and many (South Vietnamese) refugees were able to get out and they processed some through Camp Pendleton, CA.
His uncle is a Vietnam veteran, a combat marine, who served "in country" 1967-68. "It was shameful how (the American public) treated Vietnam veterans when they first came back," Girten said. "There was this great spirit in WWII and I wish that was still the case, but we know how it happened with Korea and especially Vietnam. I think there's a sense of pride in serving your country and just the accomplishment of it. It's nice to get together and have that fellowship.
"We just appreciate their service and we appreciate their presence today," founder and organizer White said of the participating veterans. "It's an odd year for everyone. This is what we can do to be safe. So we just appreciate all of our veterans and want them to know that we do.
It was, in fact, the efforts to honor veterans of her late father, Ray Foust Jr., that inspired White to launch the program two decades ago. With her mother, Bobbie Foust, a longtime Western Kentucky reporter, and an array of siblings, nieces and nephews helping out this year, White added, "Nothing brings my family together like the veterans program. "
The participation of many veterans in this year's unique event testifies to its commitment, quality and success. "I've been in a lot of different types of programs for veterans and it's not just me; I've heard several other people say that too," Girten concluded. "It's the best program ever. The sincerity and hard work really shines through. Terrie White and these people put their hearts and souls into it. It's great for generations to come too. They need to be taught and (the program organizers) are doing a great job in this regard."